Search Results
Glass Travel Mugs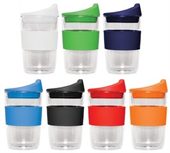 Barstow Glass Travel Mugs have 300ml capacity and are great for use at home or in the office.
25 min.
View Info
+

Compare List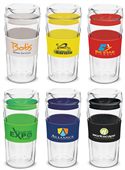 The customised lucent double walled glass cup is made borosilicate glass material for sturdiness.
25 min.
View Info
+

Compare List
Promotions Only stock a huge range of Glass Travel Mugs, in a range of styles, colours and sizes. They are great for use on the road, in the office or during camping trips, and can be used with, or without the lids. Our Glass Travel Mugs come with an ergonomic silicone grip for ease of use, plus, they protect your hands from the heat of the glass. They are perfect to use on corporate days out, and to gift to customers at the end of the day - as each one can be custom designed with your business name and logo. They make great souvenirs and also ensure clients never forget you!
More Travel Mugs...