Search Results
Promotional Banners - Displays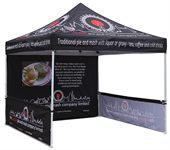 If you are looking for quality teardrop or feather banners to advertise your service or products, we've got everything thing you need. From small, medium and large sizes, you can also pick between indoor or outdoor UV protected advertising banners. If you are participating in a trade show you can attract more visitors by using one of our full colour printed banners or perhaps you are doing a stand at a festival and need a custom full colour printed marquee. Whatever you need in point of sale promotional material, we've got it all in this section.
Some Popular POS Displays
Promotional Merchandise Ideas for POS Displays
If you want to make sure your brand stands out from the competition, you need to have the right products that will support your marketing campaign. Luckily, we have a solution that is ready for any business challenge and budget. Here at Promotions Only, we have a vast collection of promotional teardrop and feather flag banner displays, including indoor and outdoor banners, marquees, and more—all custom made to your exact requirements. No need for you to go anywhere else, because here, we do it all. As one of the leading suppliers of promotional products in Australia, our mission is to provide the highest standards of quality for every product that we make and deliver.
Whatever industry you're in or whatever size of business you run, you will greatly benefit with point-of-sale advertising. It's a proven strategy to attract customers and increase sales. A clever ad display will easily attract shoppers' attention and convince them to buy your products immediately. Also great thing about these items is you can place them around your store, not just near the checkout counter or entrance. For outdoor events, our outdoor teardrop banners and marquees also make an effective sign solution to attract more potential customers.
We also offer stationery items that are perfect for homes, classrooms, and offices, such as our personalised calendars. We have wall calendars, desk calendars, fridge calendars, and mini calendars. These products are an excellent marketing tool because they are often displayed where people can see them, which means lasting exposure for your business.