Search Results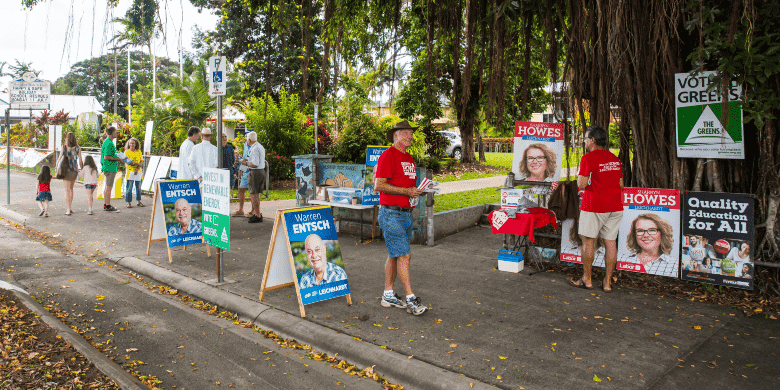 11 April, 2022
Best Promotional Products For Political Campaigns
It's getting to the time again when elections will be upon us. If you are involved in politics and are looking to gain more people to your party, promotional products are the perfect way to do it. They can motivate people, along with bringing them closer to your political party. Just look at the rallies in the USA and how fervent everyone is. They are cheering, waving flags, wearing merchandise – they want to belong and they want everyone to know which party they belong to because they are proud of it. The same is happening in Australia, we thought we'd list some of the bigger, more popular items for political campaigns.
1. Apparel: This is a big one because it's not just at political rallies that people wear clothing merchandise. The two most popular would have to be t-shirts and baseball caps. T-shirts are great because they give you a huge branding area and if you go for a unisex fitting, then you don't need to worry about sizes for men and women. The best is either a white tee shirt with big, bold black printing or a black t-shirt with gold or silver printing. Baseball caps are another big one. Highly visible, people will wear them everywhere, giving your campaign a great boost in the local area. Hand them out at rallies, offer them for sale online to generate funds for your campaign, or do both of these things. Offer a prize to whoever takes the most creative photo of themselves wearing your merchandise and posts it online. There are many ways to use social media to your advantage to get a higher profile.
2. Button Badges: These are great as they can both advertise your political campaign and become collector items in the years to come. Give them to people who come to your rallies. They give people a sense of unity and it is a great keepsake for them to remember the party by. Button badges are printed in full colour and are highly visible.
3. Noisemakers: Nothing like making noise at a rally. Get people cheering for you and revving the crowd up by handing out something they can make extra noise with. It could be a whistle, hand clappers, cowbells, mini megaphones or even maracas. People will cheer and make noise as you bring up different topics. It's a great way to get crowd involvement.
4. Flags & Cheering Sticks: At your rallies other incredibly popular promotional items are flags and cheering sticks. Imagine a crowd of thousands all waving flags with your political party name and your image on it. If there is television coverage of the rally, it will enhance the popularity of the day. People cheering and waving flags is a very patriotic thing to do. Besides flags, they can also use cheering sticks. These are long, PVC blow-up sticks that people can either wave individually or clap together to make a clapping sound. They are highly visual and very interactive.
5. Lapel Pins: Showing solidarity is an impressive thing and if you hand out lapel pins to all your supporters, it will unite them in a common way. Lapel pins are a great way to advertise. They are low cost and affordable to hand out by the 1,000s. They will give your supporters both a keepsake of that year's elections, plus they can wear it when going out to show what party they support.
There are many ways promotional products can help in a political campaign or at campaign rallies. If you would like help in getting your promotional merchandise together for your next rally, give us a call or send us an email and we'll happily assist.
The PromotionsOnly Team