Search Results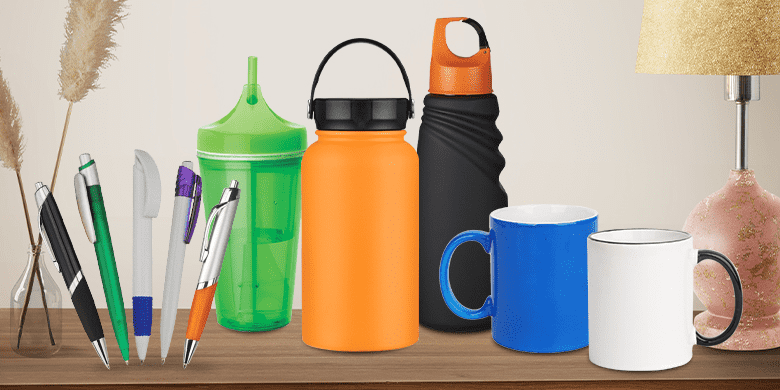 8 October, 2021
Top 3 Best Selling Categories Of Promotional Products
We get asked a lot about what the most popular promotional products are, and though there are fads that come and go, over the past 18 years we have been in business, there are proven winners that consistently sell well, and there are reasons for that.
Promotional Pens
This would definitely be the most popular category. People may talk about us becoming a paperless society and to some degree that is true, but a pen is always needed. There are many reasons why they have remained popular, but a few of the most obvious is that pens are cheap to buy in bulk.

You can get a good quality plastic pen printed with your logo for under $0.40 each. Pens also have great longevity. Even a non-refillable pen will last about a year or two. If you purchase a refillable pen, then the timeline is endless.

Most pens also have a decent sized branding area, and as they are a product used every day, your logo will be seen multiple times. These are just some of the reasons why they are so popular.


Coffee Mugs
Another very popular category, and it is easy to see why. A huge branding area, a product that people use every day and will sit in front of them, plus they are practical. Everyone starts the day with a morning coffee or tea, so a mug is a useful gift.

There are many options nowadays for shape and sizes, but for price, size of branding, and longevity, you can't go past the basic white coffee mug. The white background means your logo will pop off the mug, and it also ensures we get a good colour accuracy to the PMS colour you want.

Also, having straight sides means you can wrap prints around the mug. If you are looking to impact your branding, always try and look at straight-sided mugs, as that will give you the best opportunity to maximise your advertising.


Drink Bottles
You would think drink bottles are only popular in the summertime, but they are another promotional product that is popular all year. The hydration story is pumped into us a lot, and there is a good reason for that – it's to keep our body healthy.

The recommended daily intake is 2 litres of water, which means you need to be consistently sipping throughout the day. Drink bottles enable this, and they can be inexpensive to buy. A basic plastic drink bottle printed with one colour logo can be purchased for under $2.00 each when purchased in bulk.

They all have massive branding areas so that you can pile on the advertising. For those with larger budgets and looking for a quality product, there are many vacuum-sealed bottles on the market now that have double-walled insulation and can keep drinks hot or cold for up to 24 hours.
Whatever you decide to purchase as a promotional product, just bear in mind that you want to look for something practical, something people will reuse, and something that allows for a good-sized branding area. Any of the above three would be a good choice and give you good value for money.
The PromotionsOnly Team